In Part 1, a cluster analysis was done on the DNA of WAB to see how the family tree mapped out. Baker, Perkins and Woods subgroups were identified. In Part 2, the unidentified DNA matches and clusters were analyzed to look for signs of the Nicklos subgroup. Now in Part 4, it is time to analyze those possible Nicklos links. The results show the power of DNA matches when combined with traditional genealogy methodology.
McDowell DNA
The Nicklos subgroup arises from the DNA of Charles Nicklos born in Saxony Germany mixed with the DNA of Jessie McDowell born in Scotland. They met in Canada, moved to Galicia, before finally settling in California. Two separate single matches both pointed to the McDowell family.
Shared match 10 for Joan Lankton
Shared match 3 for Craig Terkelsen
| Match Name | Shared Match to 20 cM | Length of Match | Comments |
| --- | --- | --- | --- |
| Craig Terkelsen | | 40.4 | No Tree |
| | DarthTorment | 22.2 | Click to see tree |
| | G.N. by deborah mccray | 21.1 | No Tree |
| | Craig Campbell | 21.1 | No Tree |
The shared match with JL is significant because JL has already been identified in the WAB's tree. They share a common ancestor in James McDowell/Isabella McLeod making them second cousins, x1 removed. Therefore, any shared match with WAB and JL involves James McDowell and Isabella McLeod.
Joan Lankton and DarthTorment are also closely related, likely first cousins, 1x removed based on their published trees. They traced themselves to John McDowell b. 1789 in Ayr Scotland. So how is this John related to our James McDowell b. 1807 given that WAB and Joan Lankton share an impressive amount of 97 cM of DNA? Ancestry publishes a "what are the odds" calculator based on the relationship and the amount of shared data and the proposed relationship.  So let's look at three scenarios how the John McDowell side could be related to James McDowell based on the shared DNA between Joan Lankton and WAB.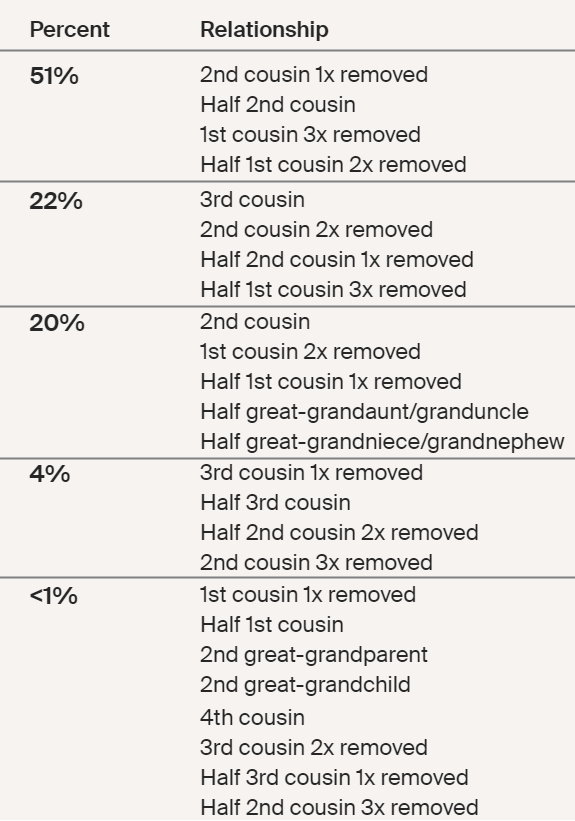 McDowell Tree, John & James brothers
McDowell Tree, Jessie & John half siblings to Elizabeth
McDowell Tree, James & Elizabeth half siblings
Even with odds of only 7%, we likely found a stepsister for our James McDowell. That James was married twice makes sense. James and Isabella's oldest son was born in 1852 when James was 45 and Isabella was 29. He had plenty of time to sire other children through an earlier marriage. Additional proof is still needed to better prove this claim, but the above case study shows the usefulness of DNA in extending the family tree. Now lets see another example that affects the DNA of the Nicklos side.
Nicklos DNA
Regarding cluster 22, it is useful to start with the original comments found in Pt 1.
"Very interesting cluster. There should be an obvious relation because the top match, LC, shares an impressive 77 cM of DNA. He also has posted a well-researched tree for cross-reference. Unfortunately, no common ancestor here. The second member of the cluster, EW, shares 58 cM, but has no tree available. I was, however, able to create a tree for another shared match of 29 cM, JJ. Again, no common ancestor. However, JJ has one ancestor name Elsie Slotz who was born Dec 1873 in Saxony Germany. So I wandering if she might be related to our Ernest Nicholas line who also came from Saxony."
Both LC and EW kindly replied to email inquiries. Whereas EW had absolutely no idea about her tree due to her adoption, LC and I have had many productive exchanges through email and phone. LC's maternal grandfather, Joseph Lewczak, filed a Naturalization application where he states that he was born 1899 in "Krosno, Austria". Guess who also lived here? The Perkins/Nicklos families resided in or near Krosno during this same time in an area variously called Galicia, Poland, Ukraine and Austria.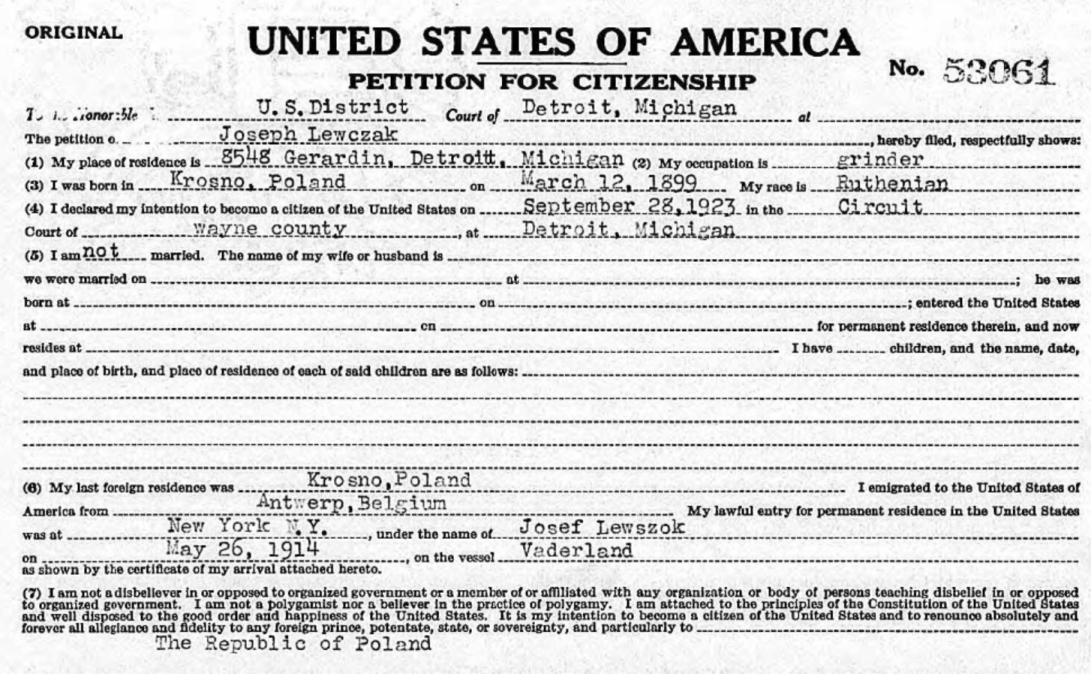 Now we see a possible connection. Joseph Lewczak (b. 1899) married Eva Czystor (b. 1893) in 1916 in Connecticut. We know very little about Eva so we must be open to the fact that she, too, might have emigrated from the same region. In other words, either Joseph or Eva represents the best source of our shared DNA. Our Perkins and Nicklos families resided at the same time in Krosno. One of them likely supplied DNA to Joseph or Eva. To be fair, we need to consider everyone, both male and female, of potential child bearing age that might have lived in or near to Kronso at that time (see tree below) . Then we can rule them out.
Although a few of the Perkins men lived checkered lives as youths, we can likely rule out descendants of James and Mary (Vansickle) Perkins. They passed DNA to many individuals tested on ancestry.com, as shown in the chart below. One would expect to see some small amount of Perkins or Vansickle DNA in the shared match with LC. To date, no evidence of any of this DNA shows up. By the same logic, we can so far rule any children of Charles and Jessie (McDowell) Nicklos. We identified McDowell DNA matches above. Any children of Charles and Jessie would be expected to contribute some McDowell DNA to any offspring. Nothing is found. Therefore, the children are unlikely sources. So now is time for the big reveal.

We are left with one likely source of the DNA…Charles Nicklos. Currently, every piece of evidence suggests that he passed DNA to either Joseph Lewszak or Eva Czystor when he lived in Galicia. Let's look at the evidence.
The cluster has an individual who can be traced back to Saxony, Germany. Charles's father was born in Saxony.
The cluster currently has no matches to any McDowell or Perkins DNA.
LC and WAB would be half 2nd cousins. Ancestry provides a table that "shows the percentage of the time people sharing 77 cM have the following relationships." Half 2nd cousins sit at the high bracket of 39%. (By contrast, if a child of Charles Nicklos or Jacob Perkins fathered a child, then LC and WAB would be a 2nd cousins, dropping the percentage to 9%.).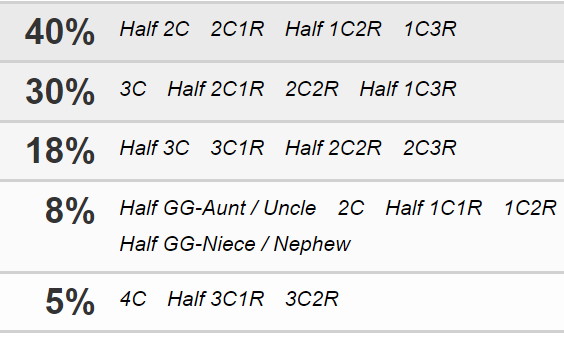 The proposed family tree is shown below. In red are the shared DNA matches of WAB. In blue are the shared DNA matches provided by LC. Some observations for those who like to get into weeds:
JB shares more DNA with LC then WAB. Likely due to normal statistical variation.
WAB does not share any DNA with TA even though TA is removed by only one generation (she is a half 2nd cousin 1x removed).  Likely due to normal statistical variation. Maybe JB will share DNA with TA.
LC does not share DNA with JJ.  Likely due to normal statistical variation. Maybe TA share DNA with JJ.
EW's birth father or mother is closely related to LC's side of the family. 
You could figure out whether Charles is the father of Joseph Lewczak or Eva Czystor by testing a descendant of GL. Any positive DNA match to WAB would indicate that Joseph Lewczak is the child. 
It would be very interesting to test a descendant of Gertrude May Nicklos for a match to LC because they have Nicklos & McDowell but no Perkins & Vansickle DNA.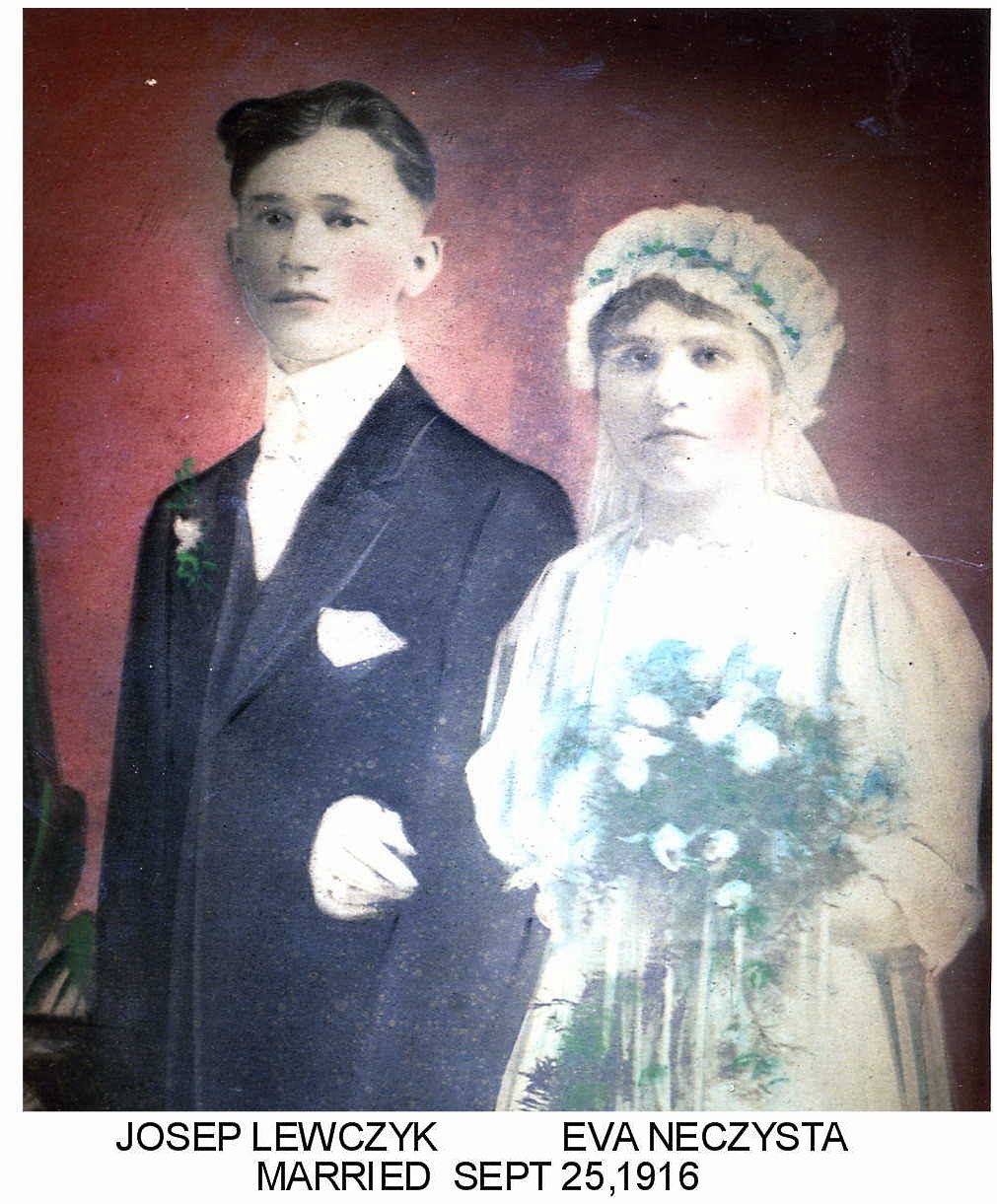 Again, please realize that these results are not set into stone. New data or different conclusions can always emerge. However, keep in mind that if Charles get exonerated, someone else gets implicated. I realize that this new family narrative could be disconcerting to some. Welcome to the wild west that is DNA testing. Fortunately, this event took place 120 years ago. Enough time has hopefully passed so that we can welcome this new version of the family tree.
As to any connections to Ernest Nicklos or his wife Charlotte Zieryacks, we have only the tree of JJ at this time. She has several German ancestors, but only Elsie Stolz states that she was born in Saxony Germany. Elsie immigrated to Milwaukee, WI around 1890. She lists her parents as Carl Slotz and Louise Miller. She also had a sister name Lena (Slotz) Schmidt. Nothing in this biography gives any whiff of connection to Ernest or Charlotte Nicklos who arrived in Rochester, NY around 1850. Much work still needs to be done to find these answers.