The goal here is to identify the location of the Woods family homestead in Mercer County. The Woods family came from Tyrone County, Northern Ireland around 1790. William and Mollie (Laird) were the original immigrants. Their son, John W. Woods, with his wife Jemima, then ran the farm until he died in 1869. Afterwards , his son, Willis O Woods, ran the farm. To put these individuals in prospective, William and Mollie (Laird) Woods are the great grandparents to my great grandmother (Helen Woods Baker). The various accounts of the Woods family all suggest that they resided on one farm in an area called West Salem, situated near to Greensville, PA. Here are several passages that talk about these individuals and the location of their farm.
From "History of Mercer County", 1888
"THE WOODS FAMILY were among the earliest settlers of West Salem Township. William and Mollie (Laird) Woods, natives of Ireland, immigrated to Philadelphia and thence to Westmoreland County, Penn., about 1792. In 1797 William took up the tract of land in West Salem whereon his grandson, Willis O. Woods, now lives, upon which he settled permanently the following year. Four children were born ere the removal of the family to the county, viz: Jane, Alexander, Thomas and Rebecca. William, now a resident of Page County, Iowa, was the first born in their new cabin home, his birth occurring in January, 1800. Mary, John W. and Betsy were born subsequently."
From "History of Mercer County", 1888
"John W. was born on the old homestead in 1804, and grew to manhood under the parental roof. He was married January 6, 1835, to Jemima, daughter of Patrick McLaughlin, a native of Ireland, whose parents settled in this township in April, 1800. Mrs. Woods was born in Kinsman, Ohio, May 15, 1815, but came to West Salem in infancy. She is the mother of thirteen children: Laird, Electa J., deceased; Wilson, deceased; Elizabeth, deceased; John W., Alexander, Simeon, deceased; Oscar, deceased; Lyman B., Emeline, Willis O., Charles S. and Hattie. Mr Woods always followed farming, and died on the homestead March 17, 1869. He was a deacon of West Salem Baptist Church many years, and his widow has been life-long member of the same organization. He was a Republican in politics, and an upright, honest and liberal-hearted citizen, whom everyone respected. He was a kind father and husband, and his memory is revered by numerous descendants."
From Obituary in "The Greenville Advance Argus", 20 Aug 1891
"Mrs. Jemima Woods, widow of the late John W. Woods, died at her late residence in West Salem, Monday morning, August 17, in the 77th year of her age. She has been a resident of West Salem from her infancy. She spent her entire married life on the farm where she died, and reared a family of thirteen children, nine sons and four daughters, eight of whom are still living. Her husband died 22 years ago. She has been a member of the West Salem Baptist Church for over 59 years, being one of the constituent members of it. She died of cancer of the face, after an illness of many months and the confinement to her bed three weeks. The funeral was held yesterday morning at the Maysville Baptist Church, Rev. J.T. Davis preaching the sermon."
From Obituary in "The Greenville Advance Argus', 8 Apr 1897
"Willis O. Woods, whose death was noted last week, as occurring March 30, was in his 43rd year. He had been a great sufferer for more than three years from a disease that defied the skill of many physicians. He was widely known and respected throughout the community. He was married on March 30, 1882, to Miss Ella J Swigart, of Brookville, daughter of Rev. D. W. Swigart., and died on their fifteenth anniversary. His widow and six children survive him. Mr. Woods was a sincere Christian, having been for years a consistent member of the Transfer Baptist Church. He was also a highly respected member of Knights of Pythias and was escorted to his grave by a delegation of that order. His funeral services were conducted at the Maysville church by paster, Rev. O. R. Thomas, assisted by Rev. J. T. Davis. He was laid to rest in the Shenango Valley cemetery in Greenville. The sympathy of many friends is extended to the bereaved family."
On the 1900 census Ella (Swigart) Woods lives elsewhere, making it likely that the farm left the Woods family possession around this time.
So where was this farm located? The answer appears on old 1860 and 1873 maps of Mercer County. The 1860 map incorrectly refers to J W Wood (not Woods). Across the street is W. W. Wood, likely John's brother, William W Woods, who moved to Iowa around 1870. The 1873 map labels the house as  "J.W. Wood's Heirs" an appropriate reference since John died in 1859. This map has two additional "Woods" references nearby. One is "J. Alex Woods" who may be John Alexander Woods, a cousin of Willis O Woods. The other reference is "Woods & Groves" which remains a mystery.8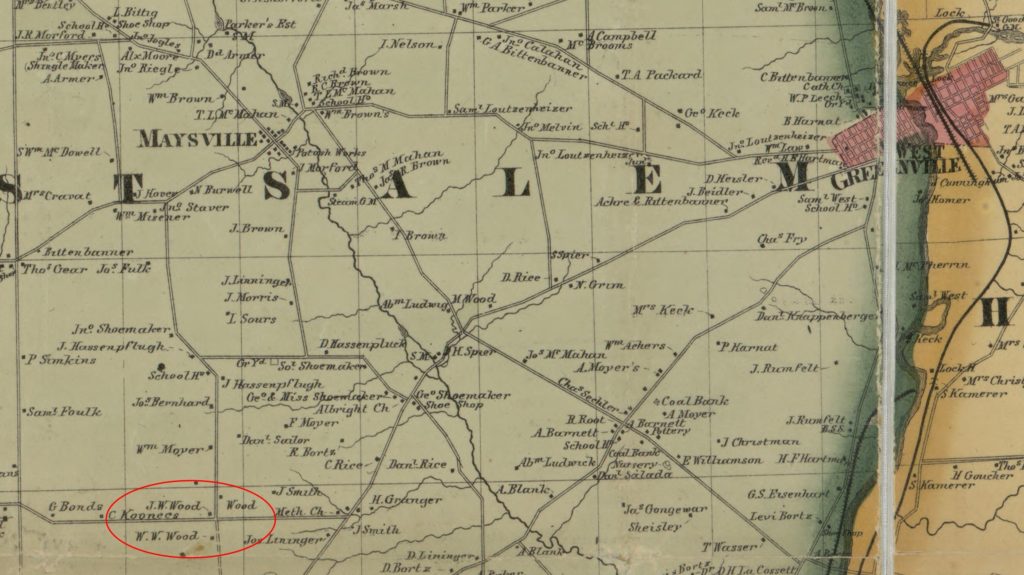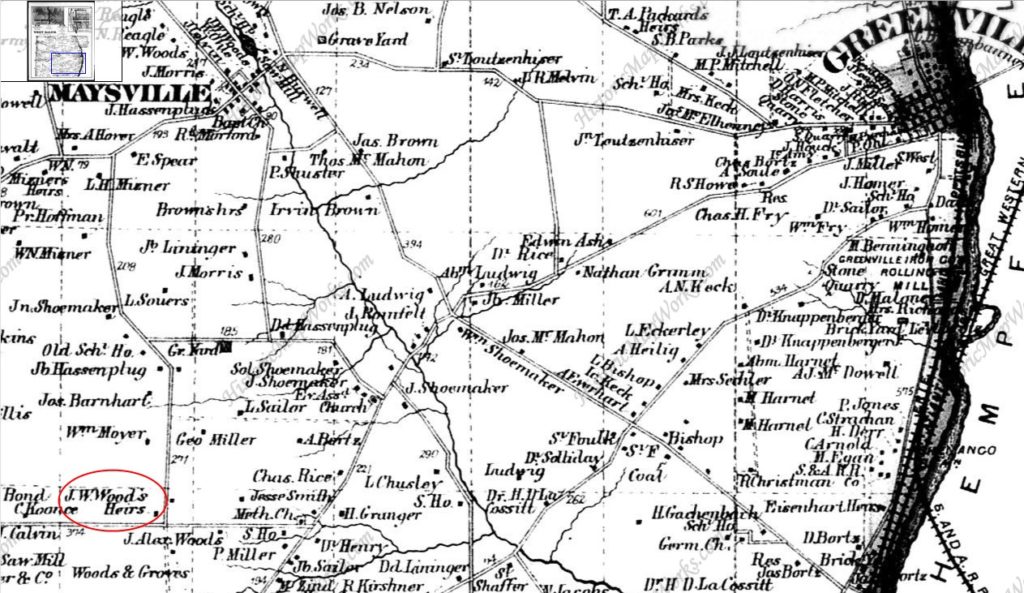 Here is a Google Maps view of this region today. Most the roads still remain. I have circled the region that corresponds to the J.W. Woods farm.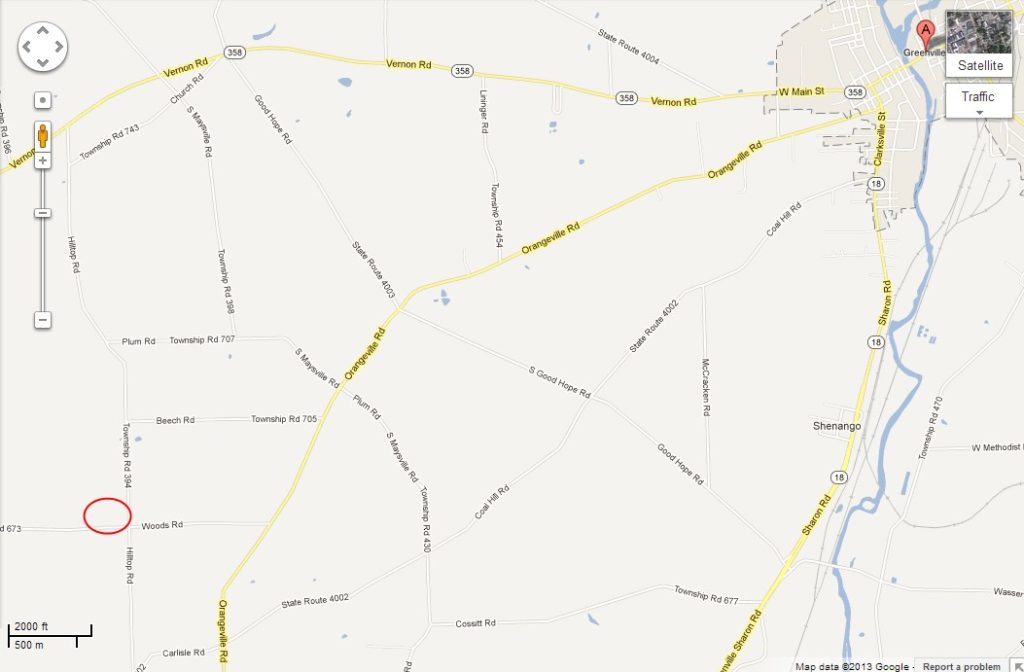 Now let see what's uncovered when we zoom and switch to satellite mode. In today's terms, the old homestead is located at the intersection of Hilltop and Woods Rd in the upper left quadrant. Obviously, it is significant that one of the streets is named "Woods Rd". The other observation that there is not much there. Trees cover the  area where one would hope to see a farm house.  Also deserted is the town of Maysville which shows a cluster of buildings in 1860 & 1873. Today, one sees an intersection of the road with little remainders of the former village.