The goal here is to identify the place where James and Mary (Palmer) Baker settled when they moved in upstate New York in the 1830's. Several sources have helped in this cause. There is the family history written by Ethel (Baker) Neff that talks about growing up in the area.  Land records show the path of migration from Saratoga county in eastern New York to Niagara county in the west. The website www.fultonhistory.com has countless upstate NY newspapers scanned and OCR'ed that describe events at the time they occurred. It's an amazing site. There are several old maps of the area that have survived. They allows us to view the area as it existed, and Google maps to see the area now. We can actually use these maps to locate the farms of the various Baker descendants. 
Excerpts from "Historical Data Anecdotes And Reminiscences Of My Family 1570 – 1949" by Ethel Baker Neff Ethel who was born in 1880, writes about her visits to her grandfather, Alden Dudley Baker, as a child. We learn about a place called "Baker Hill" in Cambria, Niagara county, NY. We also get a sense of some of the people who lived there.
"JAMES BAKER, my great grandfather, was born in New Hampshire in 1792. His father moved to Saratoga County, New York, where in 1816 James married Mary Palmer. There a son, Alden Dudley, was born to them. About 1838 they moved to Cambria, Niagara County, New York where James bought a farm and built a large home which I always knew as the "Baker Homestead". James and Mary had nine children. Ira, Oscar, Palmer, Alden, Mary, Jane, Omar, George and Sarah. Of them all I knew only Sarah and Ira, and of course, my grandfather Alden. I remember Aunt Sarah because she was so sweet and Uncle Ira because he was so fat. I was always thrilled when father would take me to Aunt Sarah's. She was living in the home her father, James, had built. It was a beautiful place, filled with all sorts of interesting things which I was always free to examine. If we stopped at Uncle Ira's we would find him in the hammock, if the weather was hot, industriously fanning himself with a palm leaf fan. As I said, he was very corpulent and I, dreadful child, was always hoping the hammock would break and I might be there at the time…James, born in Westmoreland, N.H., died November 18, 1868, age 76 years. He is buried in Cambria cemetery, Cambria, N.Y. The above date I copied from his tombstone when Margaret and I visited the cemetery on one of our trips back East."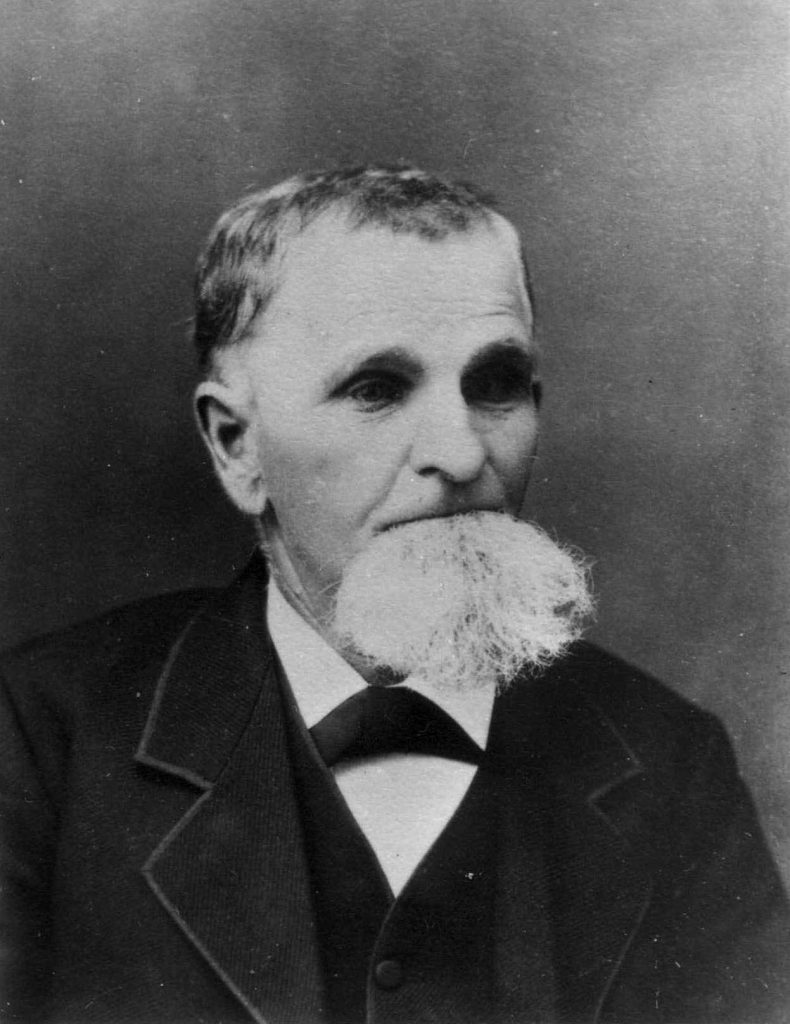 "ALDEN DUDLEY BAKER, my grandfather, was born July 28, 1823 in Saratoga County, New York. He was the son of James Baker and Mary Palmer Baker, his wife. When Alden was about fifteen his father moved his family to Cambria, Niagara County, New York. There he built a large home in a fertile valley at the foot of a steep hill. Later Alden married Elizabeth Blackmer, bought a farm and built a home at the top of the hill. Two sons were born there — Everett, my father, and Elwood. As the years passed, there were Bakers at the top of the hill, Bakers at the bottom and on both sides of a winding road which led from the valley to the crest of the hill. So it does not seem strange that this hill was named "Baker Hill". Today there is a bus stop there called "Baker Hill"….A visit to Grandfather Baker's was always a great event. We would get up and dress by lamplight and take the train to Sanborn (not more than twenty-five or thirty miles). Why we always had to take such an early train I never knew. Grandfather would meet us with a horse and buggy or surrey and we would drive the few miles to his farm. He had a wonderful apple orchard and I have spent many a happy hour there with him, sitting on the ground, our backs against a tree, while he pared apples for me and told me stories. The "hired man" had to do all the work while I was there, so Grandfather could devote his time to me. We even went after the cows together — I riding behind him on old Nell…I dearly loved my grandfather with his soft white beard and kind blue eyes and Mother always said I was his favorite grandchild. I do know that when he was dying they sent for me at his request and when Papa took me in his room my picture was on a table close by him. He died March 15, 1891….The farm is still in the Baker family, owned and occupied by Herbert Baker, my cousin, son of Elwood."
Land Transactions
Land records clearly show the migratation of James and Mary Baker, starting in Northumberland, Saratoga, NY where James married the daughter of Nicholas and Eunice Palmer. They first settled Gorham, Ontario, NY for seven years, then Royalton, Niagara county for 4 years. Finally, he purchased his property in Cambria, Niagara county in 1836.
| | |
| --- | --- |
| 14 Feb 1824 | James Baker and Nicholas Palmer of Northumberland, Saratoga, NY bought property of Abraham and Rebecca Chute in Gorham, Ontario County, New York for $1,300. |
| 24 Sep 1831 | James and Mary Baker along with Nicholas and Jane Palmer sold property in Gorham, Ontario County, New York to John Ellsworth for $1,350 |
| 13 Apr 1832 | James Baker of Gorham, Ontario County, NY bought property of Ebenezer Pardee for $700 |
| 20 Feb 1836 | James and Mary Baker sold property in Royalton, Niagara, NY to William C Smith of Rochester, Monroe, NY for $3500 |
| 3 Mar 1836 | James Baker of Royalton, Niagara County, NY bought property of John Gould in Cambria, Niagara, NY, part of lot 12, 112 acres for $4,480 . liber 15 of Deeds page 271 |
| 11 May 1868 | James Baker conveys house & land to Ira Baker liber 115 pg 301 |
| 11 May 1868 | James Baker conveys land to Omar Baker liber 116, pg 268 |
| 16 Dec 1892 | Mortgage to Marie L Baker for $2500 for Deed No 13 |
| 24 Feb 1897 | Marie L Baker judgement of foreclosure and sale filed for deed No 13 |
Newspapers Accounts
Fultonhistory.com is an obscure repository of Western New York newspapers. It's a amazing site that contains a pretty complete collection of newspapers from Lockport, the closest town to Cambria. We learn that Joseph and Mary Baker left quite a imprint on the area. Furthermore, it became fashionable to hold family reunions in the early 1920's. For this Baker clan, these family reunions started 1924 and continued to a least 1962, an amazing run. At this point, the number of men with the surname Baker began to run low. There may be one Baker who remains in the area today.
from "The Lockport Daily Journal", 23 Dec 1875
Omar Baker of Cambria, and Maria L. Langshore, of Lockport, were pronounced husband and wife Dec. 20, 1865, by Rev. Joseph L. Bennett. On the tenth anniversary of that joyful occasion, last Monday evening, he was summoned to their home and gave thanks for ten years of bliss, and with one hundred relatives and friends to congratulate them for their prosperity. Many family of Cambria with their pastor, Rev. Mr. Blake, and a goodly number from Lockport, were made welcome. The gifts – of tin – were both useful and ornamental and numerous. Enough of the comic was introduced in the presentation of articles to assure us that this was indeed the tin-th anniversary of the wedding. The sumptuous feat and the merry songs, the renewal of old acquaintance and the new ties formed, made the evening pass delightfully. James Baker forty years ago made purchase of 262 acres of land and has raised nine children. Some of the sons now live either on a portion of the original purchase, or near it, while the youngest son occupies the old homestead. May the race of Bakers continue, and be numbered with the thrifty families of Niagara county.
From "The Lockport Union-Sun & Journal", 11 Jul 1931
SANBORN , July 11 – The seventh annual reunion of the Baker family was held at the home of Mrs. and Mrs. Edward Baker at their home on the Mountain Road on July 4, with 60 members attending. Dinner and supper were served at attractively decorated tables on the lawn. Officers elected for the coming year were as follows: President: Edward Baker, Sanborn; Vice-president, Arthur B. Baker, Sanborn; Secretary, Vivian Hause, Buffalo; Treasurer Harold Richardson, Eden, N.Y. Members were present from Buffalo, Kenmore, North Collins, Eden, Erie, Pa., and this vicinity. The members are descendants of James Baker who came with his family from Ontario county 90 years ago and settled in the vicinity 90 years ago and settled int he vicinity of the Baker hill. HIs five sons were: Ira, Dudley, Palmer, Omar and Oscar Baker and there were four daughters.
From "The Lockport Union-Sun & Journal", 20 Jul 1945
PEKIN – Thirty nine descendants of James Baker who in the early 1800's purchased a section of land in Niagara County, now known as Baker Hill, met for their annual reunion of Sunday at the home of Mr. and Mrs. Walter Baker, Baker Hill. A picnic dinner was served on the lawn. Officers elected were: President, Walter Baker; vice president, Clarence Baker; secretary-treasurer, Frances Hause. Out-of-town guests were Mr. and and Mrs. Clyde B. Gass, Detroit. The 1946 reunion will be held at the home of Mr. and Mrs. George Stover, Jr., Upper Mountain Road.
From "The Lockport Union-Sun & Journal", 5 Jul 1962
Clarence Baker was elected president during the business meeting of the Baker family at the home of Mr. and Mrs. George Stover and daughter, Marcia, Upper Mountain Road, on Sunday. Other officers chosen were vice-president, Mrs. Edward J. Mayer, and secretary-treasurer, Mrs. Charles Bayer. Mr. and Mrs. Clarence Baker will be the hosts at the 1963 reunion.
Historic Maps
We are very fortunate that a series of Niagara county maps survives from 1829 to 1938, many of which show the various farms of the Baker family. We find the hill where the original homestead sits at the base, while the farms of his children can be found a the top along Upper Mountain Road. The locale lies in the middle of the towns of Cambria, Pekin and Sanborn. That's why all three towns get mentioned in connection with the Baker family.
The 1875 map is particularly interesting because it pinpoints the farms of the various sons of James Baker. One can overlay this map over the current Google map to pinpoint the location of these farms. In 1875, Omar (O. Baker) leved in the original homestead. Alden Dudley (A.D. Baker) resides at the top of the hill. Across the street was Ira (I. Baker). Other sons Palmer Baker had moved to Michigan, and Oscar Baker passed away around 1861.
Now we can zoom into the James Baker farm at the base of Baker Hill and identify the house. As it turns out, we met the current owners of the house in 2013. We learned that the house fell out of the Baker family around 1897 due to foreclosure. The new oweners had rebuilt a house over the Baker house, and the original barn had recently fallen down. He handed use a brick which represented a last memento to the Baker family.
Now we can zoom in the farm at the top of Baker Hill including the Alden Dudley and Ira Baker farms. Notice that the part of the road leading to the top has been rerouted. The newspapers describe many accidents that occurred along this stretch of road over the years. It is not clear if either house is original although the odds seem good. They would be been built later than the James Baker homestead. During our visit to Cambria, we met the owner of the A.D Baker house. Although he was a bit leery to let a stranger enter the home, he allowed us to photograph the outside.